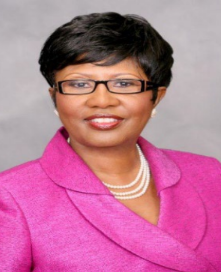 A strategist, communicator, partnership builder, and transformational change leader.
For over four decades, Sheilah has been advancing the mission of the credit union movement, while increasing the economic viability of individuals, communities, and credit unions. A strategist, communicator, partnership builder, and transformational change leader, she's dedicated her career to helping credit union boards, management, and staff focus on serving members where they are.


Sheilah, a Certified Chief Executive (CCE), retired President/CEO of Credit Union of Atlanta and former President/CEO of 1st Choice Credit Union, and current CEO of Florida A & M University Federal Credit Union was able to direct mission critical projects, develop organizational capacity strategies, and create management initiatives to promote long term financial sustainability for the credit unions to provide the products and services that ensure consumers and businesses have access to affordable financial resources. She has participated on financial empowerment panels, invited to speak at several credit union, community and national events. She currently serves as a board member of 1st Choice Credit Union and former board member of the National Disability Institute, Inclusiv, and AACUC. Sheilah is a Credit Union Development Educator (CUDE; I-CUDE) and the co-founder of the African American Credit Union Coalition (AACUC). Her awards, include but not limited to, The League of Her Own award from the Atlanta Metropolitan Black Chamber of Commerce in Atlanta, 100 most influential African American Women in Atlanta by the Atlanta Business League, presented the Lifetime Achievement award and inducted into the
Hall of Fame from AACUC.
Sheilah speaks candidly about the importance of giving back to the community and empowering individuals to reach their potential. small businesses succeed, especially minority and women-owned
businesses. Education: BS Business Administration.